【奥迪中国招聘】要求会用Autoform!
2016-11-08 by:CAE仿真在线 来源:互联网
还没找到工作,蓝瘦,香菇。
想进名企,但竞争激烈,蓝瘦,香菇。
没关系,会用Autoform就可以试试
奥迪诚邀您的加入!
奥迪公司概述
由奥迪公司完全控股的中国子公司成立于2009年4月18日,总部设在中国的首都——北京。在这里,一支高度敬业的团队帮助大众汽车公司分部完善在中国这个重要市场的业务活动,巩固奥迪在中国高级汽车市场上的领先地位。

文化
我们最宝贵的资源是每位奥迪的员工。每天,全球各地的优秀奥迪员工都在努力实现奥迪的梦想。作为汽车行业最具吸引力的雇主,如果您想加入我们的大家庭,为未来奥迪品牌的成功而共同努力,我们将对您表示衷心的欢迎!
▼
上职位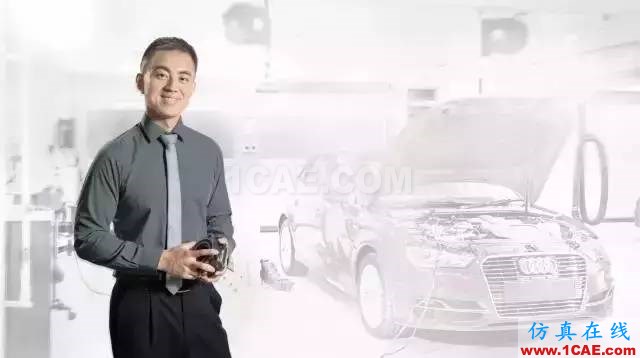 工作地点:北京
实习职位
1
Intern, HR Service & Management Support/员工管理实习生
Misson & Main Task:
Team Project Support:
New staff on-boarding and orientation

Preparation of welcome materials for new on-boarding employees

Preparation and Coordination of new staff orientation (contact with internal and external agencies)
Audi China Employee Fund Project
Coordinate with global expats about the available time schedule

Support for the processing of Employee Fund Project

Monthly Report Tracking
General Operation Support
Delivery and tracking for PKI Card

Filing Office Documents

Support for team meeting and meeting minutes

Employee Training Coordination and Tracking Support
Daily Operation Support
Pick up visitors

Support for daily chopping

Post and Payment Voucher distribution and tracking
Qualifications:
Education:
Bachelor or Master Students in business administration or human resource
Professional skills:
Proficient MS Office skills (Word, Excel, Power Point)

Good communication skills

Positive working attitude

Strong motivation to work
Language skills:
Good English

German preferred
工作地点:长春
ACEMpro职位
2
ACEMpro Junior, Method Planner Sheet Metal Forming Technology
Misson & Main Task:
stimulating & Varied – Your Working Environment:
The Method Planning for sheet metal parts/press shop is part of Audi China Production Planning department. The primary aims of this department are insuring product integration process, supporting project management of FAW-VW Planning department and implementing tools, systems and new production technologies.
Demanding & Diverse – Your Challenges:
Evaluating the feasibility of sheet metal parts, ensuring the feasibility of using forming simulations with AutoForm and creating production methods


Optimizing sheet metal parts and their production methods throughout the whole process chain to the finished vehicle


Pursuing new forming technologies and implementing internal benchmarks to enhance product and process quality and efficiency


Representing the interests of the department to external and internal partners and interfaces


Supporting the production planners in the manufacture of forming tools in terms of feasibility, from the initial draft component design of the development to the use in the series product
Job Duties:
Troubleshooting on engine test bench including measurement, analysis and finding solution in cooperation with Joint-Ventures and Application departments at Audi Ingolstadt

Researching and Evaluating specific engine calibrations during engine durability testing (i.e. with regard to China fuel quality)

Acting as central contact person for measuring technology and application tools

Supporting the homologation process regarding engine calibration as well as the software flashing processes
Professional & Personal:
Bachelor/Master in Mechanical or Industrial Engineering with focus on Production Technology

Preferably with initial work experience in method planning for sheet metal parts, forming simulations and CAD systems

Structured, systematical and analytical working attitude

Strong communication skills and high ability to work in a multi-cultural team
Language Skills:
Mandarin (mother tongue or equivalent proficiency), English (advanced) and German (advanced)
工作地点:北京
社招职位
3
Legal Counsel/法律顾问
Job Duties:
Team Project Support:
Together with your legal colleagues you will:Handle the company's legal related issues in general but especially in the field of Competition Law and Sales/Distribution Law field e.g.:

Provide legal opinions and memos;

Prepare and review contracts

Participate in internal and external business meetings;

Support the companies departments in project work;

Participate in company's business negotiation and provide related legal support;

Work together with cooperated law firms and coordinate with related lawsuits;
Qualifications:
Education:
Bachelor or Master in Law
Professional Skills:
4-8 years related working experience

Solid experience in Competition Law and Sales/Distribution Law

Intercultural experience acquired abroad

Interested in technical issues
Personal Skills:
Excellent team player

Excellent negotiating skills and assertiveness

Strong conscientiousness

Strong communication skills

Flexibility
Language Skills:
English skills: business fluent on reading, writing & speaking

German skills: desirable (but are not a pre-requisite)
联系我们
◆◆◆ ◆◆◆
相关标签搜索:广州有限元培训 solidworks培训 CAD培训 ansys培训 Autoform培训 proe培训 运动仿真 电磁仿真 fluent、cfx流体分析